Last updated on June 29th, 2018 at 04:56 pm
Sitting around having a chat with friends and colleagues recently, the conversation turned (perhaps inevitably as we were on a small seagoing vessel in harbour) to super yachts.
And on further research, it turns out the world of super yachts for the super rich makes James Bond films look, well, a bit boring. Our guess is that not many of the owners of these boats needed to get boat finance. Here are some interesting details on just a few of these amazing vessels:
At 126 m, this superyacht is the 13th largest super yacht in the world, and is owned by the other half of Microsoft, Paul Allen. It comes with two helicopters, two submarines, a recording studio, a basketball court, a cinema and, of course, a pool. It needs a crew of 57 to keep the yacht operational.
Recently Allen sent the yacht on an (ultimately unsuccessful) ocean expedition with the Royal Navy to attempt to recover the bell of HMS Hood, the largest British vessel ever sunk, which went down off the Denmark Strait after bring attacked by the Bismarck on 24th May 1942. The shipwreck was found in 2001 in 2800m of water. Allen did not charge the Royal Navy and is keen to try again.
Venus (Superyacht)
The Venus superyacht was the last major project of Steve Jobs before he died. As recounted in Walter Isaacson's biography of Jobs, he was aware that he might not live to see the boat launched, saying:
"I know that it's possible I will die and leave Laurene with a half built boat. But I have to keep going on it. If I don't, it's an admission that I'm about to die."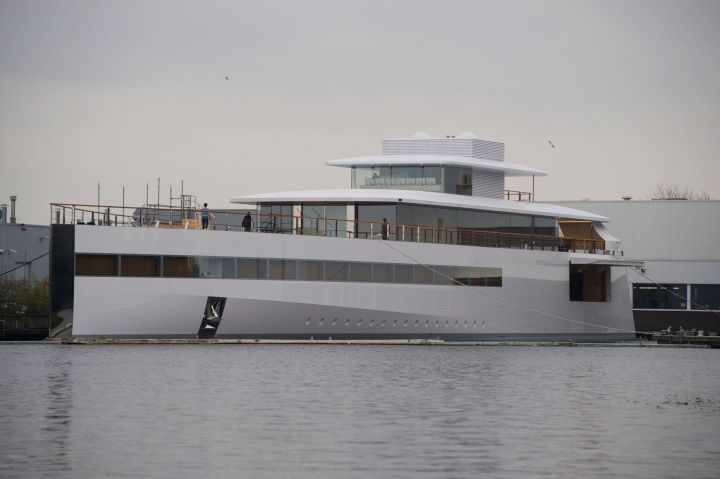 The finished yacht was unveiled in October in Holland. Designed by Jobs and well known minimalist designer Philippe Starck, Venus is 80m long, with teak decking and ceiling to floor glass throughout. Known for his attention to detail, Jobs gave Starck free rein on the external design of the yacht, but was intimately involved in the design of the interior:
"We spent just one day every six weeks, for five years, on refinements. Millimetre by millimetre. Detail by detail." said Starck.
Perhaps unsurprisingly, a row of six 27″ Mac screens forms a part of the kit on the bridge. Venus is thought to be lighter and faster than your 'average' super yacht.
Eclipse Superyacht
The Eclipse superyacht certainly eclipses all of the other super yachts out there. At 163.5m long it is the world's largest privately owned yacht, just 50cm longer than its nearest rival, Dubai, owned by the ruler of Dubai Sheikh Mohammed. It was delivered to its owner, Russian businessman (and owner of Chelsea football club) Roman Abramovich, in 2010 at an estimated cost of US$475M. It has:
two helicopter pads
24 guest cabins
2 swimming pools
a disco hall
a mini submarine that can dive to 50m
a missile defence system
an armour plated bridge and master suite (don't worry about the guests)
a laser anti photography system
If you're interested, it can be chartered through Super Yachts Monaco (don't know if we'd cover a loan for that – perhaps try our leisure loans site?).
Image credits: